Моторные масла ликви моли официальный сайт
Моторные масла, автокосметика и автохимия LIQUI MOLY
Программа для квадроциклов
Новости
LIQUI MOLY — лучшее моторное масло!
Читатели журнала «Auto motor und sport» в 10-ый раз подряд назвали LIQUI MOLY лучшим брендом моторных масел.
Чемпионат мира по биатлону с LIQUI MOLY
В итальянском Антхольце при поддержке LIQUI MOLY стартовал чемпионат мира по биатлону 2020.
LIQUI MOLY десять лет подряд бренд №1
Читатели журнала Auto Zeitung в десятый раз подряд назвали моторные масла LIQUI MOLY лучшими!
LIQUI MOLY на этапе Кубка мира по биатлону
Во Франции при поддержке LIQUI MOLY состоялся 3-ий этап Кубка мира по биатлону.
Liqui Moly в спорте
Чемпионаты мира по хоккею
Компания LIQUI MOLY является официальным спонсором чемпионата мира по хоккею. Первый, при поддержке немецкой компании, прошел на территории Германии и Франции в мае 2017. За этим событием наблюдали миллионы болельщиков во всех странах мира.
NHL. Los Angeles Kings
В марте 2017 года немецкая компания LIQUI MOLY и клуб NHL Los Angeles Kings договорились о партнерстве на ближайшие три сезона.
Горные лыжи
LIQUI MOLY официальный спонсор Кубка мира по горным лыжам AUDI FIS Ski World Cup. Этапы кубка мира и финал сезона в американском Аспене прошли при поддержке Liqui Moly.
Moto 2
MotoGP является самой популярной серией в мире мотоспорта. LIQUI MOLY является эксклюзивным поставщиком смазочных материалов Moto2 и Moto3 с 2015 года.
Ближайшие события
Чемпионат мира по хоккею 2020, Хоккей
Швейцария, Цюррих & Лозанна

Чемпионат Европы по лёгкой атлетике 2020, Лёгкая атлетика
Франция, Париж

Slalom der Damen, Slalom der Herren, Горные Лыжи
Финляндия, Леви

Abfahrt der Herren, Super G der Herren, Горные Лыжи
Канада, Лейк Луиз

Abfahrt (2 Läufe) der Damen, Горные Лыжи
Канада, Лейк Луиз

Моторные масла ликви моли официальный сайт
Lubricant manufacturer remains Germany's most popular oil brand
"No couch potatoes"
"Giving up is not an option, because it doesn't help anyone. And despair is no solution either." Managing Director Ernst Prost sends honest.
"Boredom vs. collapse"
Managing Director Ernst Prost on the enormous relevance of professions that serve the community and the contribution of all colleagues to overcoming.
Corona instead of a kicker machine to play with
«We are a strong, resilient, responsible and a hardworking community.» CEO Ernst Prost gives hope and confidence.
"You fight crises by working harder and increasing your commitment"
"The cavalry cannot ride out": On the weekend too, Ernst Prost addresses his partners and colleagues with five important strategic points
«Apocalypse or Chance?»
In his circular from 20.03.2020 CEO Ernst Prost emphasizes how important virtues like strength, integrity, honor and ethics are in these times.
«I am willing to give up my own salary in a pinch»
In his circular from 19.03.2020 CEO Ernst Prost emphasizes that the jobs at LIQUI MOLY are safe and nobody will be dismissed.
"Nobody will be laid off – if need be, I'll waive my salary"
LIQUI MOLY's Managing Director Ernst Prost strengthens his team and his customers worldwide in the corona crisis
No one is to be dismissed!
In his circular from 18.03.2020 CEO Ernst Prost explains the current situation in the Covid-19 crisis and emphasizes how important it is that every.
«My wish for us all: Just stay healthy!»
In his circular from 17.03.2020 CEO Ernst Prost gives guidance in the Covid-19 crisis and reassures his colleagues.
LIQUI MOLY defies corona: a bonus for every employee instead of short-time work
Managing Director Ernst Prost thanks the workforce for their commitment and expresses confidence
The financial corona consolation
In his circular from 16.03.2020 CEO Ernst Prost surprises his colleagues with a 1,000 euro bonus for their great commitment during the Covid-19.
Our Superheroes for your household
LIQUI MOLY everyday heroes: Always on the spot when you need them. With surprising versatility and real super powers!
Liquid «fertilizer» for your garden appliances
Our «green» product line for garden appliances is as diverse as the number of garden tools available
LIQUI MOLY remains in Formula 1
German oil manufacturer signs three-year contract with the racing series – largest sponsorship in the company's history
Perfectly prepared for the new motorcycling season
Stop hibernating! Get out and enjoy your bike with LIQUI MOLY Motorbike
High-perfomance products for high-performance cars
LIQUI MOLY care products for long-term value retention of your mobile treasures
LIQUI MOLY remains loyal to the MercedesCup
Company extends its contract with the ATP tennis tournament up to 2022
With quality and continuity to success
Our company magazine — issue 03/2020
Hyundai Team Engstler and Luca Engstler crowned TCR Malaysia 2020 Champions
It was a joyous day at Sepang International Circuit for Hyundai Team Engstler, powered by LIQUI MOLY
A clean thing: LIQUI MOLY Gasoline & Diesel Engine System Cleaner
Problems with high fuel consumption, decreasing engine performance, rough engine running and poor emissions values? LIQUI MOLY provides remedy
IBU Biathlon World Championships 2020 with LIQUI MOLY
The world's best biathletes put their capabilities to the test at the World Championships at Antholz in South Tyrol
LIQUI MOLY top brand for the tenth time in a row
Lubricants from LIQUI MOLY take first place among Auto Zeitung readers, with care products in second place
With full thrust into the New Year
Our company magazine — issue 02/2020
Tasks of the motor oil
Why is it important to use the right oil? Can you save money on motor oil and why is it necessary to change it? LIQUI MOLY has the answers
Dual protection with Cera Tec
The optimum wear protection additive for physical and chemical protection is our product of the month
Superlatives to start off the racing year
The LIQUI MOLY Bathurst 12 Hour is now bigger and more challenging than ever
"Our lowest viscosity motor oil"
LIQUI MOLY launches its new Special Tec AA 0W-16 on the market
Hyundai Team Engstler takes two wins at TCR Malaysia Season Opener
Successful start to the season for Team Engstler, powered by LIQUI MOLY
LIQUI MOLY continues to grow in spite of problems
Software conversion spoils year-end results – record turnover nevertheless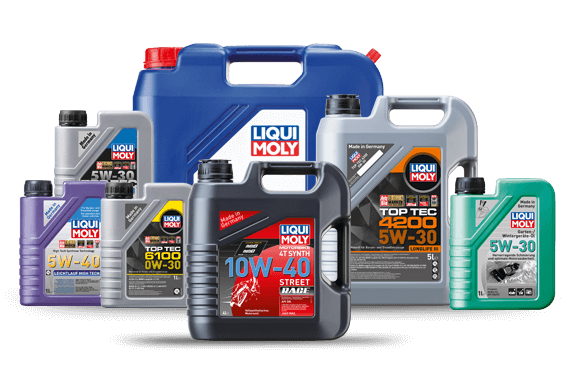 Lubricants
LIQUI MOLY offers the matching motor oil for every vehicle in the world. Our motor oils have a variety of approvals by German and overseas car manufacturers, or fulfill the requirements of the producers.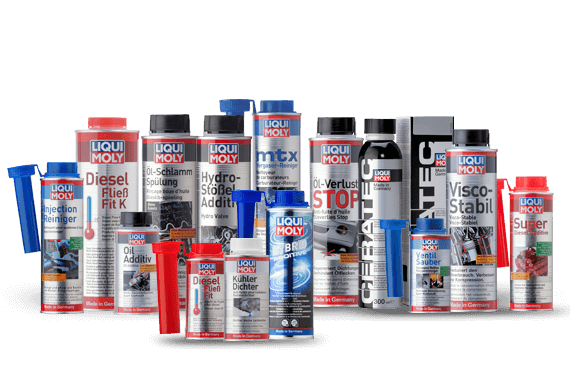 Additives
Additives are vitamins for your car. It won't work without them. With LIQUI MOLY additives you protect your motor, reduce your fuel consumption and save cash. Our oil additives clean the motor from the inside, minimize friction and wear, reduce oil consumption and protect against corrosion.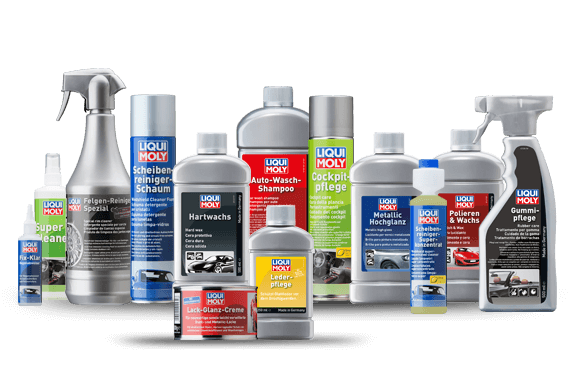 Vehicle care
LIQUI MOLY offers you a great range of cleaning and care products for external use. For example, polish, wax and shampoo. Our leather balms as well as our upholstery and plastic cleaners work optimally to quickly bring your vehicle back to its peak.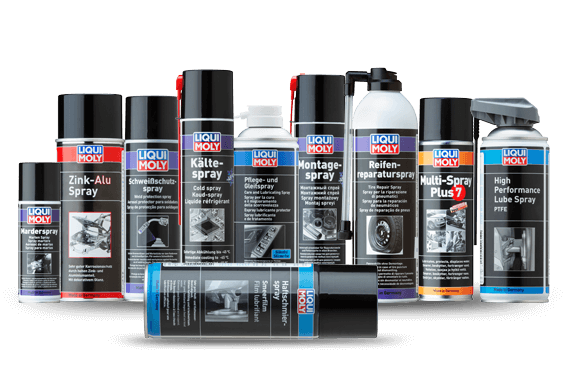 Repair & Service
Be it in your vehicle, your devices or in the home: Something can always break down. Usually at the least convenient time. But every cloud has a silver lining: In cases like these LIQUI MOLY can help. Quickly and reliably. For example, with multi-functional sprays and rust solvents, materials for exhaust repair, leak detectors and brake cleaners.
Моторные масла ликви моли официальный сайт
LIQUI MOLY on tunnustatud Saksamaa tootja, kes on üle 60 aasta turul olnud ning kelle valikusse kuulub üle 4000 artikli. Liqui Moly toodete hulka kuuluvad mootoriõlid, kütuse- ja õlilisandid, autokeemia ja autohooldusvahendid. Liqui Moly arendab ja testib tooteid oma laborites ning toodab neid ainult Saksamaal, et tagada kõrgeim võimalik kvaliteet. Tänaseks päevaks on Liqui Moly maailma üks juhtivamaid selle ala ettevõtteid ja tooteid müüakse rohkem kui 120 riigis üle maailma.
LIQUI MOLY edu kinnitavad kuus Saksamaa juhtivat autoajakirja (Auto Bild, Auto Motor und Sport, Motor Klassik, Motorsport Aktuell, Sport Auto ja Auto Zeitung), kelle iga-aastases uuringus valisid sakslased Liqui Moly enda lemmik õlibrändiks. Autoajakirjade kõrgeima tunnustuse osaliseks on Liqui Moly saanud nüüd juba üheksa aastat järjest (2011-2019). Järjepidev tunnustamine näitab, et Liqui Moly hinnatakse kõrgelt ja tooted vastavad tarbijate ootustele.
LIQUI MOLY teeb igapäevaselt koostööd maailma juhtivate autotootjatega (VW, Toyota, General Motors, Daimler jne.), et mootoriõlid vastaks autotootja täpsetele nõuetele. Selle tõestuseks on Liqui Moly'le väljastatud autotootjate poolt õli vastavussertifikaadid.
LIQUI MOLY on kindel oma toodete kvaliteedis ja annab neid vabatahtlikult proovimiseks ülemaailmselt tunnustatud sõltumatutesse katselaboritesse nagu näiteks Technical Supervision Association (TÜV) ja Automobil-Prüftechnik Landau GmbH (APL). Mõlemad asutused on korduvalt erinevaid tooteid testinud ja kinnitavad, et Liqui Moly tooted teevad just seda, mida tootekirjelduses lubatakse.
LIQUI MOLY on tõsiselt pühendunud ka spordimaailmale. Mootorisport on parim, kus proovile panna tooteid äärmuslikes tingimustes. Liqui Moly on läbi ajaloo esindatud mootorispordi sarjades nagu näiteks F1 (Formula 1), FIA World Touring Car Championship (WTCC) , Touring Car Racing (TCR), Dakar Rally, Moto/ Moto2/Moto3 World Championship ja paljudes teistes sarjades.
Samuti on Liqui Moly partneriks ka korvpallis (Chicago Bulls), käsipallis (World Men's Handball Championship), tennises ja jalgpallis. Liqui Moly lööb kaasa ka talispordis: mäesuusatamine ( FIS Alpine Skiing World Cup), suusahüpe (Four Hills Tournament, FIS Ski Jumping World Cup ), suusatamine (Nordic World Ski Championships, Nordic Combined World Cup), bobisõit ja skeleton (Bobsleigh and Skeleton World Cup), jäähoki (IIHF Ice Hockey World Championship) ja paljudel teistel talispordialadel.
LIQUI MOLY on kaasaegsed tooted, kõrgeim kvaliteet ja täiuslik teenindus.
Aktuelles
Unsichtbare, aber wichtige Helfer in der Corona-Krise
Motoröle und Additive sind systemrelevant, sagt Ernst Prost von LIQUI MOLY
Lichtblick für LIQUI MOLY
Schmierstoffhersteller bleibt Deutschlands beliebteste Ölmarke
Mitarbeiter von LIQUI MOLY spenden für Krankenhaus in Bergamo
10.000 Euro für den Kauf von Beatmungsgeräten und anderer medizinischer Ausrüstung
"Bloß kein Sofa"
"Aufgeben gilt nicht, weil es niemandem hilft. Und Verzweifeln ist auch keine Lösung". Geschäftsführer Ernst Prost mit ehrlichen und motivierenden Zeilen an seine Mitunternehmer/innen
"Langeweile vs. Kollaps"
Geschäftsführer Ernst Prost über die enorme Relevanz von Berufen, die der Gemeinschaft dienen, und den Beitrag aller Mitunternehmer/innen zur Bewältigung der Corona-Krise
"Corona anstatt Kicker"
"Wir sind eine starke, widerstandsfähige, verantwortungsvolle und fleißige Gemeinschaft». Geschäftsführer Ernst Prost gibt Zuversicht & Hoffnung
"Krisen bekämpft man mit mehr Arbeit und noch mehr Einsatz"
"Die Kavallerie fällt aus»: Auch am Wochenende wendet sich Ernst Prost mit fünf wichtigen Strategiepunkten an seine Mitunternehmer/innen
"Notfalls verzichte ich auf mein Gehalt»
Geschäftsführer Ernst Prost untermauert sein Versprechen an die Mitunternehmer/innen, trotz diverser globaler Krisen keinerlei Entlassungen vorzunehmen
"Niemand wird entlassen, notfalls verzichte ich auf mein Gehalt"
In der Corona-Krise stärkt LIQUI MOLY-Geschäftsführer Ernst Prost seiner Mannschaft und seinen Kunden weltweit den Rücken
"Niemand wird entlassen!»
Am 18.03.2020 verdeutlicht Ernst Prost in einer weiteren Rundmail an die Mitunternehmer/innen wie ernst die Lage durch das Corona Virus und wie wichtig die Gesundheit jedes einzelnen nun ist
"Mein Wunsch für uns alle: Einfach nur gesund bleiben!»
Am 17.03.2020 zeigt Geschäftsführer Ernst Prost den Mitunternehmer/innen Wege durch die sich drastisch zuspitzende Corona-Krise auf und gibt Mut
1.000 Euro Corona-Krisenprämie für LIQUI MOLY-Mitarbeiter
Geschäftsführer Ernst Prost dankt der Belegschaft für ihr Engagement und gibt Zuversicht
Das "Corona-Trostpflaster»
In seiner Rundmail vom 16.03.2020 überrascht Ernst Prost die Mitunternehmer/innen von LIQUI MOLY mit einer 1.000 € Bonuszahlung für ihren unermüdlichen Einsatz
LIQUI MOLY bleibt in der Formel 1
Deutscher Ölhersteller unterzeichnet Dreijahresvertrag mit der Rennserie – größtes Sponsoring in der Unternehmensgeschichte
LIQUI MOLY bleibt dem MercedesCup treu
Unternehmen verlängert seinen Vertrag bis 2022
Mit Qualität und Kontinuität zum Sieg
Unser Monatsmagazin Ausgabe 03/2020
Tom Lüthi ist bei LIQUI MOLY zu Gast
Moto2-WM-Fahrer gibt während der Swiss Moto eine Autogrammstunde beim deutschen Partner
LIQUI MOLY zum zehnten Mal in Folge Top-Marke
Schmierstoffe von LIQUI MOLY schaffen es bei den Lesern der Auto Zeitung auf Platz 1, Pflegemittel auf Platz zwei
Mit vollem Schub ins neue Jahr
Unser Monatsmagazin Ausgabe 02/2020
LIQUI MOLY wächst trotz Problemen
Softwareumstellung verhagelt das Jahresergebnis – dennoch Rekordumsatz
LIQUI MOLY bleibt Sponsor der Eisbären Berlin
Der Öl- und Additivspezialist unterstützt das Eishockey-Team weitere drei Jahre
O du fröhliche LIQUI MOLY family worldwide
Unser Monatsmagazin Ausgabe 01/2020
Neue Produkte im Dezember
LIQUI MOLY wird Hauptsponsor von Moto2-Team
LIQUI MOLY IntactGP: Deutscher Öl- und Additivspezialist weitet sein Engagement in der Motorrad-Weltmeisterschaft aus
Warm eingepackt in den Jahresendspurt
Unser Monatsmagazin Ausgabe 12/2019
Titelhattrick für LIQUI MOLY
Zum dritten Mal in Folge wählen die Leser der Zeitschrift Sport Auto LIQUI MOLY zur besten Ölmarke
"Der beste Ölwechsel meines Lebens"
Erster von drei Hauptpreisen im LIQUI MOLY-Gewinnspiel gezogen und übergeben
"Definitiv nicht mein letzter Werkstattbesuch hier"
Für den ersten Gewinner unseres "Nimm LIQUI MOLY"-Gewinnspiels hat sich der Ölwechsel bei Kfz-Völker in Bühl sehr gelohnt
Winteradditive: Vitaminschub für den Motor
Der Winter naht: Mit LIQUI MOLY sind die Fahrzeuge Ihrer Kunden bestens gewappnet
Minusgrade versprechen Ihnen Umsätze
Eine der größte Tücken des Winters ist das "Versulzen" von Dieselkraftstoff bei niedrigen Temperaturen. Abhilfe schafft unser Diesel-Fließ-Fit. Warum Sie jetzt für Vorrat sorgen sollten